Six reasons why GSM Guard is the best choice for alarm monitoring software
GSM Guard is designed to organize central station for monitoring for remote stationary sites or mobile objects equipped with security alarms, controllers, or surveillance systems that send alerts about specific events or issues via GSM, SMS, or GPRS.
Faster Response Times
Does your existing solution provide real-time response in a case of alarm? GSM Guard is designed with instant response in mind, offering immediate alerts on pre-defined events.
Minimize human intervention
GSM Guard automatically handles non-critical events and performs routine maintenance and monitoring via two-way communications over SMS and DTMF.
All in one
GSM Guard offers protected access to staff via a secured Web Server. Detailed reports and analytics are available in a blink of an eye.
Comprehensive alarm history and reporting.
Can you imagine an alarm system without logs? GSM Guard takes logs on the next level, conveniently maintaining the most detailed log of all events, alerts and operator actions. Extended reports can be exported to external systems for further processing.
Compatible with all major alarm receivers
GSM Guard is one of the most compatible systems on the market, supporting a huge range of compatible communication channels (TCP/IP, GSM, SMPP, RS-232/RS-485, HTTP, Email, Telegram), message protocols and alarm receivers.
Short learning curve
Training staff takes time and effort. GSM Guard is designed to cut training times by some 80% compared to existing solutions. Its user-friendly, intuitive interface was helps to do more with less clicks.
Explore all features
- or -
Request a demo
Monitoring Station Arhitecture Scheme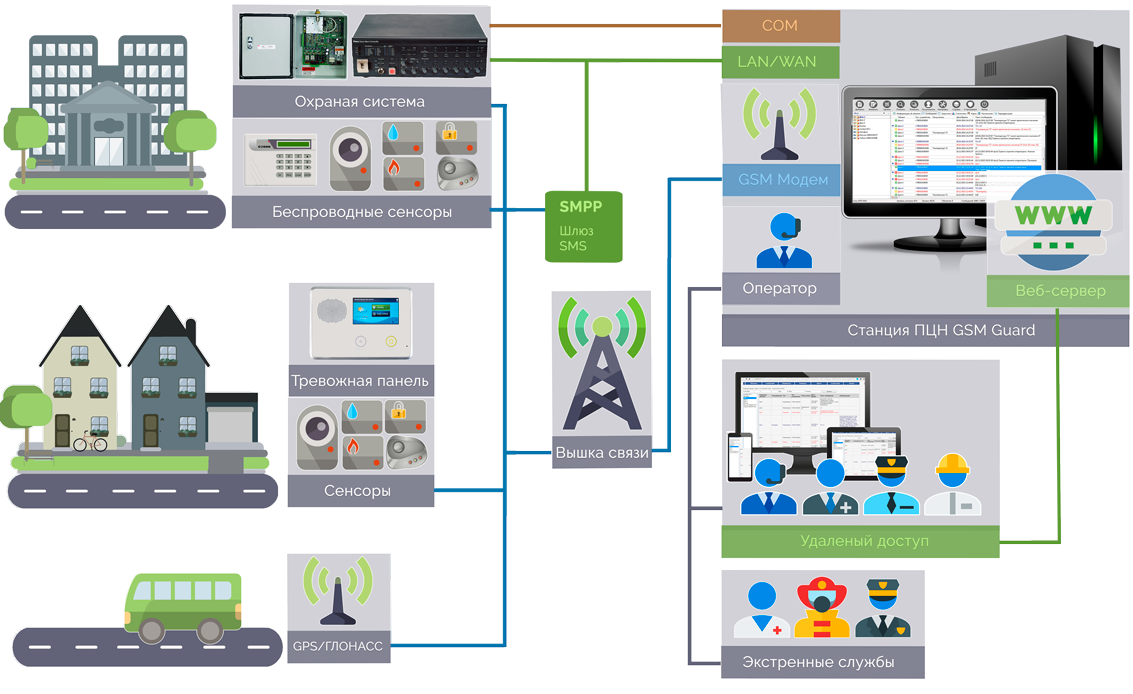 GSM Guard supports all major communication protocols, alarm receivers, detectors installed to fixed and stationary objects with GPS trackers.
Our solution comes with a built-in secured Web server allowing secure remote access to the system over the network.
Frequently Asked Questions
Why is GSM Guard a better option than other software providers?
View FAQ